Can The Netherland become the promised land?
May 10, 2012 in Europe, Premier League
By Matty Deller
Martin Jol has been in charge of Fulham Football Club for almost one season, and he had quite a difficult task on his hands. He had to take over a team that hasn't really changed since the Roy Hodgson era, and wasn't getting any younger. He had to maintain the over-achievement that the team has been doing over the last few years (finishing 8th last season, Europa League finalists a few seasons before) whilst building for the future. On top of that, he needed to navigate the tricky Europa League qualifying rounds. No mean feat, I think anyone would agree.
With hindsight now in full effect, Mr. Jol has done a very impressive job at Fulham; guiding them comfortably to a top ten finish, masterminding great performances against bigger teams, going unbeaten against fellow west Londoners QPR and Chelsea, and chucking out the deadwood for a great price (Zamora to QPR, £6m), while replacing them with better players for cheaper prices (Pogrebnyak from Stuttgart, £400k loan. Not to mention bringing up a young crop of international talent that is making the world stop and take notice of the little team by the River Thames.
But he has not finished his transformation just yet – it looks like he is going to bring a touch of the Dutch to the Cottagers.
This past weekend in the last home game of the season against Sunderland, a mysterious advert appeared in the match-day programme – proclaming the following in Dutch:
Translated, it means 'Orange is the new black'. Most people with common sense can see that this is for our away kit next season, which will now be the classic Dutch orange. A PR stunt perhaps, but this shows the commitment to Mr. Jol to be the man to bring this team forward for the next few years to come. But I am not just basing this on an advertising slogan.
The agent of the Heerenveen duo Luciano Narsingh and Oussama Assaidi has reportedly come out and said that these two players are to become the next two big Fulham signings of the Jol era, coming in to the club for a combined total of £10 million. Of course, it is in the purgatory of football transfers known as 'advanced talks', but if it is completed for next season, this would not only be a tremendous coup for Fulham, but a signal that Martin is to finally get his way tactically with the squad.
Narsingh and Assaidi have been lighting up the Eredivisie this season, being the driving force behind Heerenveen's climb to 5th and putting them into the Europa League play-offs. Considering they finished 12th last season, this is a mark-on-mark improvement and that was helped no end by the pair's 29 assists this season, and they chipped in with a combined total of 18 goals as well.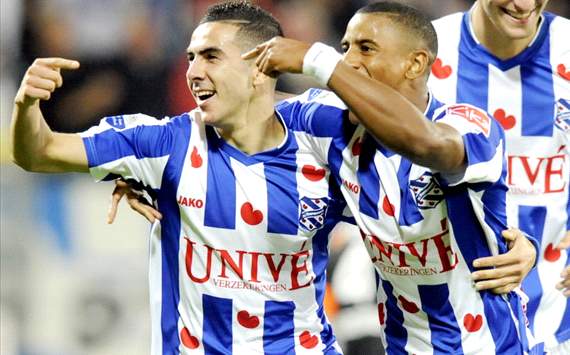 These two players are wingers, and look to be the contingency plan if Clint Dempsey is lured away by one of the bigger clubs this season following his goalscoring exploits. It also looks like to be the start of Jol finally getting to utilise his 4-3-3 formation, and get that expansive Dutch attacking style played in West London. Not exactly total football yet – but getting there.
If Clint Dempsey stays, Fulham would have a rotating front three from Assaidi, Narsingh, Pogrebnyak and Dempsey, with the midfield three of another one of Jol's Dutch signings Bryan Ruiz – who I believe will find his feet in the middle of the park feeding the three attacking players -, the returning Steve Sidwell and our evergreen captain Danny Murphy, who will be interchangable with Patjim Kasami. If Dempsey goes, we have our front three set, our midfield looks solid, and in both instances, the squad will be deeper than ever; Frei and Kačaniklić could build on their impressive debut seasons, Gecov and Gygrera will look to restart their Fulham careers next season and Hangeland, Senderos, Hughes, Riise, Duff et al will continue to bring their experience in the white shirts to the forefront.
Of course, Fulham are a bit 'one bitten, twice shy' about the national revolution coming into the club and making these kinds of sweeping changes. I remember Lawrie Sanchez buying the entire Northern Ireland squad and nearly getting us relegated in the process, which was fun for all concerned until Roy Hodgson came in and saved the day. But with the revolution, it seems like our beloved leader is bedding in the future whilst keeping hold of the past, and that blend of experience should lead us to Europa League football next season.
The team that overachieves won't be overachieving any more – we've found our level and are building on it. The future's bright, the future's orange.
Comments